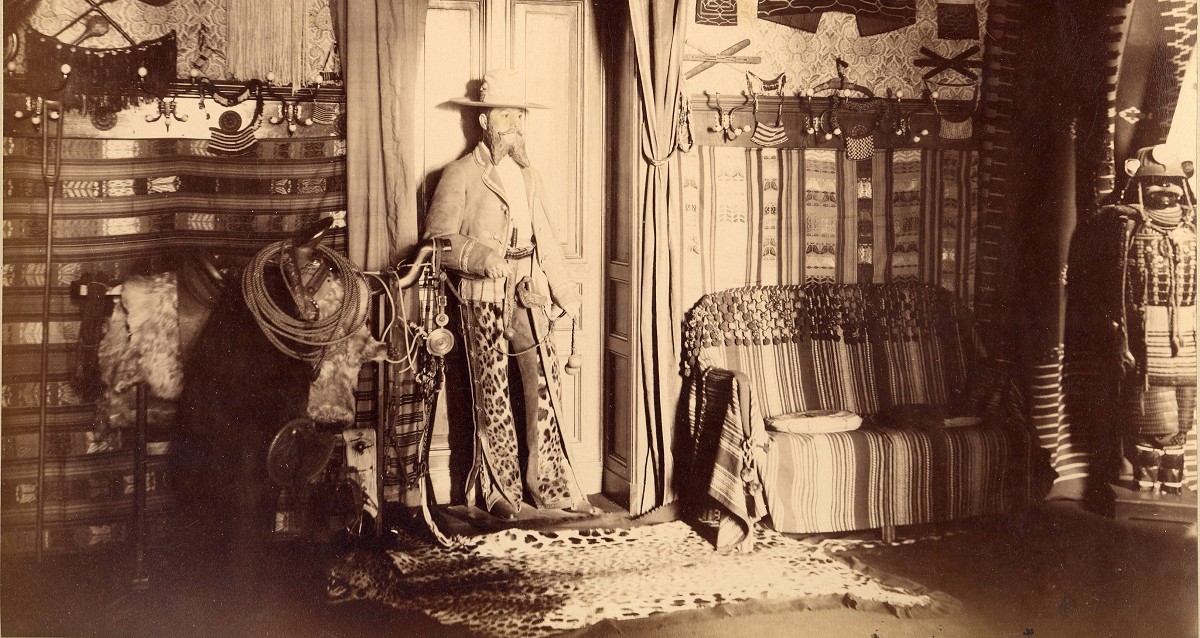 The person
Wilhelm Joest (1852-1897) was a German ethnologist, collector, author and explorer. His private collection formed the basis of the Cologne Rautenstrauch-Joest Museum; founded in 1901 by his sister Adele Rautenstrauch.


The research project
What form could provenance research take that not only asks how objects came to Europe, but also why? This research project explores this question with the help of the extensive estate of the Cologne ethnologist Wilhelm Joest.
For example, Joest repeatedly describes his often contradictory relationship to the objects he collected in his diaries; about 5,000 of these ethnographies are now in various European museums.
Between longing, desire and disgust, a relationship between collector, creator communities and objects is revealed that, beyond purely scientific or aesthetic considerations, points to the deeply emotional significance of collecting in the colonial era. Joest's contradictory and often violent life and research illustrates the complex workings of colonial rule.
Inspired by anthropologist Ann Stoler's theoretical reflections on "colonial intimacies", this project develops an approach to making visible these conflicting intimacies of colonial collecting. With this expanded provenance perspective, the focus is not only on the material history of an object, but also on the collecting actors: it allows the emotional interconnectedness of the objects in the colonial social order to be made clear and, in addition to restitution, to point out further possibilities of curatorial and artistic intervention for the decolonisation of ethnographic collections.


The books
Anne Haeming: "The Collected Joest. Biography of an Ethnographer", Matthes & Seitz Spring 2023.
Carl Deußen, Anne Haeming (eds.): "From Santa Cruz to India through Ethnology. Fragments of the explorer Wilhelm Joest", Matthes & Seitz Spring 2023.


The events

Friday, 25.11.2022, 8 pm
Reading and talk
On the 125th anniversary of the death of Wilhelm Joest: "Who is Joest?"
Venue: Forum VHS in the Rautenstrauch-Joest-Museum in Cologne
Online: www.youtube.com/RautenstrauchJoestMuseum
Participation: free of charge


Thursday/Friday, 30. and 31.3. 2023
International Conference (digital)
"Imperial Lives. Biographic Approaches as Decolonial Practice".
Venue: Online

Programme:
Registration:
https://imperiallives.com/registration
https://tinyurl.com/registration-imperiallives
Participation is free of charge.
The conference is funded by the Fritz Thyssen Foundation.
Further publications
Deußen, Carl: "'To Give Away My Collection for Free Would Be Nonsense'. Decorations and the Emergence of Ethnology in Imperial Germany", in: Jallo Zainabu (ed.): Material Culture in Transit. Theory and Practice, Routledge 2023.
Deußen, Carl: "Collecting Masculinities: Wilhelm Joest and the Masculinity of the Other", in: Carl Deußen and Mary Mbewe (eds.): The Gender of Ethnographic Collecting, boasblogs.org 2022.
Deußen, Carl: "Von Neugier getrieben. Sammelleidenschaft im 19. Jahrhundert", in: City of Cologne (ed.): museenkoeln. Das Magazin 2 (2021), 70-71.
Mohr, Sonja, Annabelle Springer, Caroline Bräuer, Carl Deußen: "Museen als Verhandlungsorte für Dekolonisierungsprozesse", in: Südostasien. Journal of Politics, Culture, Dialogue 3 (2021).
Deußen, Carl: "Colonial Collectors and Their Legacy. Asking 'Why?' matters", in: DCNtR, boasblogs.org 2019.
Project: Wilhelm Joest and the Intimacies of Colonial Collecting
Runtime: 2019-2023
Project funding: Fritz Thyssen Stiftung, Museumsgesellschaft Rautenstrauch-Joest-Museum
Cooperation: University of Amsterdam – School of Historical Studies
Project staff: